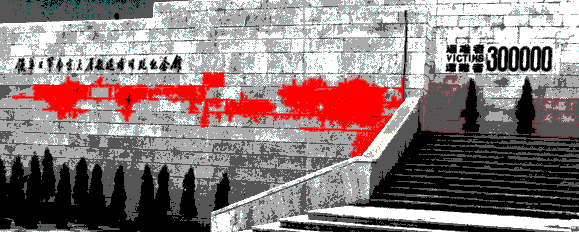 ---
WWW Memorial Hall of the Victims in the Nanjing Massacre
(1937-1938)
---
INTRODUCTION
In December 1937, Nanjing fell to the Japanese Imperial Army. The Japanese army launched a massacre for six weeks. According to the records of several welfare organizations which buried the dead bodies after the Massacre, around three hundred thousand people, mostly civilians and POWs, were brutally slaughtered.

Over twenty thousand cases of rape were reported. Many of the victims were gang raped and then killed. The figure did not include those captives who were sent to army brothels (the so-called "comfort stations").

The actual Memorial Hall is built to commemorate the victims.

The actual Hall is located in Jiangdongmen (The Gate on the Eastern Bank of the River), one of the sites where countless human bones of the victims of the Massacre were excavated. It is just one of those "wan ren keng" (pit of ten thousand corpses) which can be found in many Japanese occupied areas in China during the war.
The building housing the skeletons excavated in Jiangdongmen.
Entrance
The Hall is built in the eighties when a number of Japanese politicians and writers claimed that the Massacre had never ocurred and history textbooks were rewritten by the authority describing the Massacre as a minor incident.
It must be reminded that contrary to Germany the Japanese government has never made any formal or official apology to the Chinese people for their crimes committed during the war.
Instead, a number of Japanese politicians and writers denied not just the Massacre but any of their wrong doings in the Second World War. They claimed that they had "liberated" Asian peoples from Western colonialism. The Nanjing Massacre is one of their so-called "liberations".
This WWW Memorial Hall is created to expose their lies and to preserve the historical truth.
Let the victims of the Massacre be remembered but not buried in lies.
---
---
---
---
Desmond M. Tutu's Preface to The Rape of Nanjing: An Undeniable History in Photographs (English with Japanese translation)
Tr. Yoshiyuki Masaki
Professor Yu Yingshi's Preface to The Rape of Nanjing: An Undeniable History in Photographs (Japanese)
Tr. Yoshiyuki Masaki

Japanese Politicians Must Make up for Missed Lesson
Gu Ping, Beijing Review, Vol.39 No.34 (19-25 August, 1996)
Return of Imperialism in Japan (A Letter to the editors of the Shima Media Network) (1995)
Ignatius Y. Ding, Alliance for Preserving the Truth of the Sino-Japanese War
Downloaded copy
A Declaration to the Japanese Government & the Japanese People (1995)
Ignatius Y. Ding
At the Opening of the Museum of Nanjing Massacre in Tokyo (17 Jul, 1995)
Guo Peiyu
Downloaded copy
The exhibition has been banned by Hosei University

and refused by the city of Hiroshima. The exhibition is now on-line.

Japanese Military Commanders Cannot Evade Responsibility for the Rape of Nanjing (1978)
Saburoo Ienaga
The Canary that Forgot its History - Why the Japanese Do Not Teach About the War
Japanese version
Ishii Shinpei
Imaging the Past, Remembering the Future (Social Science Japan, No. 3, April 1995)
Fujiwara Kiichi, University of Tokyo
Downloaded copy
To Japanese people who are looking at the Hiroshima A-Bomb Museum pages (with discussion)
Mitsuru Ohba, Producer of the Museum pages
Downloaded copy (the message only)

Voice Against the Denial of the Massacre in Japan:
Japanese politicians and political parties (Japanese)
Japanese people (Japanese with English translation)
---
The Myth of the Nanjing Massacre (In Japanese. A WWW Page by Tanaka Massaki's supporters)
The Great East Asia War is a Self-Defence (Japanese)
Down With The Tokyo War Crimes Trial! (Japanese)

"Never heard of it": Ex-president of the Diet denies the Massacre (GB Chinese, 1996)
Nagasaki A-Bomb Museum Removed Nanjing Massacre Material Due to Pressure (Big-5 Chinese, 1996)
The Rape of Nanjing Did Not Happen (1995)
The Youth Liberal Party, Japan
Japan Removed Nanjing Massacre Material From Original Plan for Museum on World War II
Nicholas D. Kristof, The New York Times, May 20, 1995
"The Nanjing Massacre is a lie" (1991)
Watanabe Shoichi, Professor of Sophie University
Watanabe Shoichi denying the Massacre on video
"The Nanjing Massacre is a lie" (1990)
Ishihara Shintaro, ex-cabinet member
"The Nanjing Massacre Never Occurred" (1990)
The Deputy Japanese Consul in Houston, US

Japanese diet members' homage to war criminals
Including Matsui Iwane, held responsible for the Nanjing Massacre
---
---
---
---
---
---
---
Comments and contributions are welcome.
Please send them to Hall Maintainer.
Created: 20th December, 1994
Last updated: 27 May, 1999



VIGOROUSLY UPDATED UNTIL JAPAN FORMALLY APOLOGIZES